Quick Take
With the aggregate valuation of the top five stablecoins – USDT, USDC, BUSD, DAI, and Tron – currently amounting to approximately $120 billion, stablecoins have become major holders of US Treasuries.
Following concerns over the "cash and cash equivalents" of stablecoin reserves earlier in the current Bitcoin cycle, stablecoin issuers like Tether began migrating to US Treasuries to reduce the risk exposure of reserves.
Tether (USDT) leads the pack with a circulating supply of $83.5 billion, accounting for about 70% of the stablecoin market. Interestingly, this dominance has been on an upward trajectory, while the influence of USDC witnessed a decline from 38% to 21% within 16 months.
This high valuation places stablecoins as the 16th largest sovereign holder of U.S. treasuries, according to Will Clemente's analysis using The Block's data. Clemente suggests that as demand for these digital currencies escalates, they could become even more significant.
This evolving trend aligns with CryptoSlate's analysis conducted in July, which revealed that Japan and China, the two largest foreign holders of U.S. treasuries, have been reducing their holdings. Consequently, if stablecoin demand continues to surge, they could constitute a more critical segment of U.S. treasury holders, accentuating their influence in the global financial market.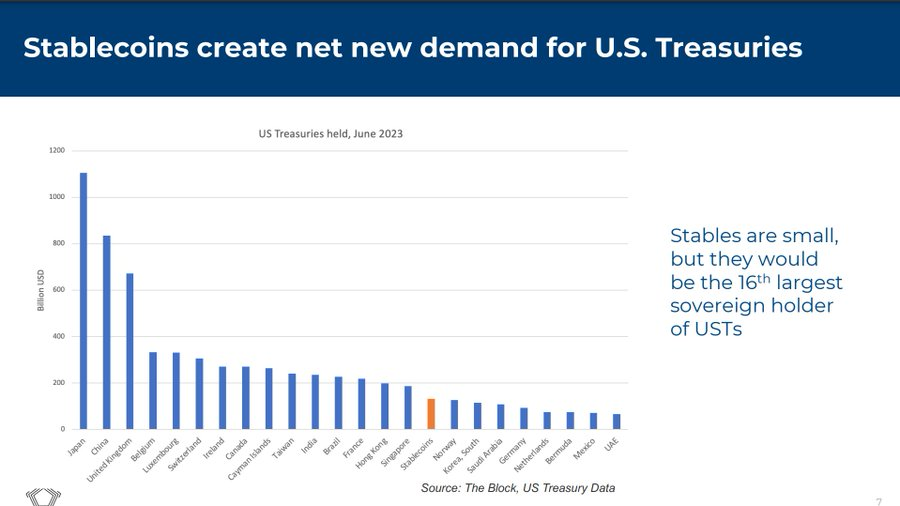 The post Stablecoins now 16th largest holder of U.S. treasuries globally – report appeared first on CryptoSlate.